Ensure your dog's hips are healthy
Countryside Animal Hospital offers both PennHIP and Orthopedic Foundation for Animals (OFA) evaluations for canines.
OFA Hip and Elbow Dysplasia
X-rays assess the presence of hip or elbow dysplasia in dogs via subjective scoring by boarded radiologists. The x-rays can be performed without sedation for some, while other stressed or strong animals may require sedation for optimal positioning. Positioning is extremely important for OFA assessment, and hospitals with significant OFA positioning experience are best selected to achieve your dog's best score possible.
Final scores can be obtained at two years or older for all breeds. Preliminary OFA evaluations can be performed in younger dogs, after four months of age. Results are usually returned to the owner and our practice from the submission date in 2-4 weeks.
Even if your dog is expected to behave well for x-rays, we recommend fasting in case of need for any sedation arises.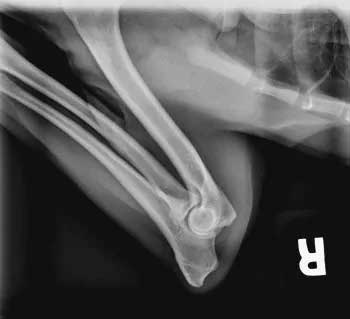 OFA Thyroid:
Thyroid blood testing can be obtained for submission. Thyroid testing must be done when the dog is not in estrus if female. Fasting (not feeding) before the appointment can help to yield the best sample possible for submission. Sample interpretation at an approved OFA lab usually takes 2-4 weeks for results.
OFA Cardiac:
Auscultation of the heart by a general practitioner is available at our hospital. Aside from filling out OFA forms, no special preparation is required before the appointment. We do not have a cardiologist, so advanced auscultation assessments, echocardiograms, and other requirements must be met at a cardiologist's office or a local cardiology clinic.
OFA Patellar Luxation
Patellar luxation evaluation is performed as part of a physical exam at our hospital. Aside from filling out OFA forms, no special preparation is required before the appointment.
OFA Dentition:
Dentition evaluation is performed by determining if all teeth are present on physical exam in our hospital. Aside from filling out OFA forms, no special preparation is required before the appointment.
Other testing:
Other OFA and genetic screening tests may be appropriate for your breed. If you have specific testing requiring veterinary assistance, please contact our office to inquire about whether we can accomplish these tests for your dog.
For more information, visit the OFA website:
OFA submission forms may be filled out before your appointment and can be found here:
*Please make sure to select multiple OFA forms if applicable when filling them out online
PennHIP
PennHIP is an assessment for the risk of development of hip dysplasia in dogs. The University of Pennsylvania developed the test as a more objective approach to improve breeding program selection and decrease the prevalence of hip dysplasia.
The main difference between OFA Hip scoring and PennHIP scoring is that PennHIP will generate a number that can be compared objectively between others of the same breed rather than a subjective pass/fail scoring system. Tighter hip measurements are the best predictor of future dysplasia for young dogs, rather than just the current presence/absence of hip disease at two years old. Some breed club requirements request one test or the other, so it is important to review what is currently accepted by your club and its members for testing your breed. Please visit your breed club website or OFA/CHIC websites for details regarding individual breed requirements. Both tests may be performed for those who wish to have maximum information about their program.
For PennHIP, dogs as young as 16 weeks old can be assessed and receive a distraction index (DI) measurement representing their risk for dysplasia throughout life. In contrast, final scores for OFA are not considered complete until the dog is at least two years old. For this reason, many breeders and owners opt for PennHIP to better assess at a young age, when making decisions about which puppy would be a good candidate to retain in a breeding program.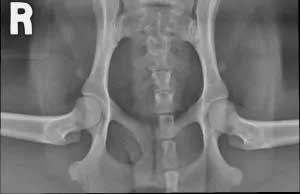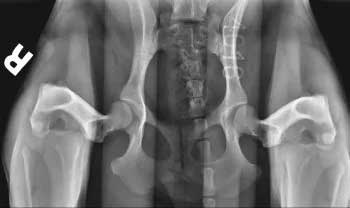 PennHIP testing requires sedation or general anesthesia to allow the dog to be relaxed for proper laxity measurements. The sedation used for routine PennHIP testing at our hospital is reversible, and patients leave immediately following their appointment for x-rays. Three types of x-rays are involved, and submission is performed directly from our hospital. Results usually are returned within one week of your PennHIP appointment.
In addition to applications for breeding dogs, PennHIP scores are utilized by the working and sport dog communities to understand better which dogs can work or perform at their best. Investments in these types of canine occupations can be significant, so dogs with minimal hip dysplasia risk based on PennHIP scores are sometimes selected before training investments are made.
It is possible to do both PennHIP and OFA Hip evaluations in the same appointment. The first x-ray taken for PennHIP is identical to the OFA film positioning, so it is a simple process to cross-submit if the owner is interested in both testing modalities. In addition, OFA elbows can be added in the case of dogs requiring hip and elbow testing, but the breed association prefers PennHIP. See above for information on the paperwork necessary to prepare for your appointment.
If planning an appointment for PennHIP for your dog, please bring any registration documents (AKC, UKC, etc.) that you would like to associate with your dog's scores. A microchip is required; If this dog does not yet have a microchip, one can be placed at the time of the appointment. Please do not feed your dog before his or her appointment due to sedation, which is required for this procedure.
For more information, visit the PennHIP website:
https://antechimagingservices.com/antechweb/pennhip
Schedule a Consultation Today
Please call us at (845) 876-2552 if you have any questions about PennHIP evaluations, or if you would like to schedule a consultation for your dog.